Why Vapor Smoothing Matters
Smoothing a 3D printed part offers numerous advantages, including:
A smooth texture favored or even required by many end users, particularly in medical devices
Watertightness
Enhanced appearance
Repeatability
Increased strength in final product
Improved ductility

Vapor smoothing allows for conventionally made 3D printed parts to come out with a better finish while increasing production speeds and requiring less labor, thereby keeping costs reasonable.
Dramatic Results
Vapor smoothing produces 3D printed products with significant and measurable gains in smoothness, strength and watertightness. Here are some compelling figures from careful analysis before and after vapor smoothing:
Surface Roughness (Ra)
Surface roughness (μm) before vapor smoothing averaged 6.39 μm, which declined to 1.066 μm after the process. Vapor smoothing reduced surface roughness of all samples by an average of 84%. Small standard deviations also proved the repeatability of the process.
Mechanical Properties
| | |
| --- | --- |
| Before vapor smoothing | After vapor smoothing, Finish Level 1 |
| Young's Modulus = 1800 MPa | Young's Modulus = 1531 MPa |
| Ultimate Tensile Strength = 48 MPa | Ultimate Tensile Strength = 48 MPa |
| Elongation at Break = 20% | Elongation at Break = 26% |
Ultimate Tensile Strength in processed samples remained the same while elongation at Break (EAB) significantly increased and the Young's Modulus decreased by an average of 15%. The increase in elongation at break is thanks to the reduction of crack initiation sites on the polymer surface due to the removal of surface porosity.
Dimensional Variation
Vapor smoothed parts exhibit no more than 0.4% dimensional change. This negligible dimensional variation results in the retention of part tolerances and retention of fine feature details.
Water Absorption
Without vapor smoothing, water is more easily absorbed into the material of 3D printed parts, which increases each part's weight after water immersion. Vapor smoothing creates a sealed surface, preventing the material from absorbing water. The vapor smoothed surface also has a lower surface energy and high contact angle between the surface and water, which means less water will stick to the processed surface after submersion.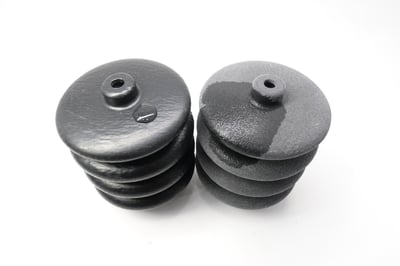 A sample with a surface area of 208 cm3 was immersed in water for 180 minutes to demonstrate this effect. Before vapor smoothing, the part's final weight was 21.5 grams (0.76 oz). After vapor smoothing, the part's final weight after immersion was 18.5 grams (0.65 oz). The 14% weight decrease in the vapor smoothed part proves the process's ability to significantly reduce water absorption.
How It Works
The vapor smoothing process penetrates the surface of a 3D printed multi jet fusion part using an organic solvent that condenses onto the part, penetrates it and liquifies it. After processing, the solvent is removed from the exterior, but the process actually reflows the surface of the entire product, leaving it not only smoother but more attractive and stronger.
Smooth Operators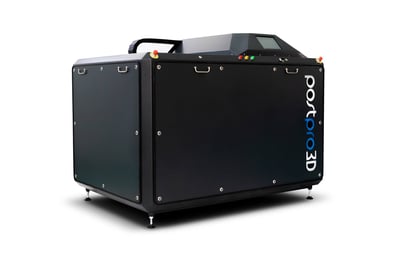 TTH is known as a first mover and innovator in additive manufacturing, so AMT approached TTH to use the new PostPro3D machine. With open dialogue between the two companies, the process has quickly become a go-to option. TTH has been using AMT PostPro vapor smoothing for less than a year but has come to rely on its speed and efficacy. With more than 25 years of 3D printing experience, TTH had the technical knowledge and talent to ramp up quickly on this sophisticated new process, which is ideal for most mid-sized 3D printing projects.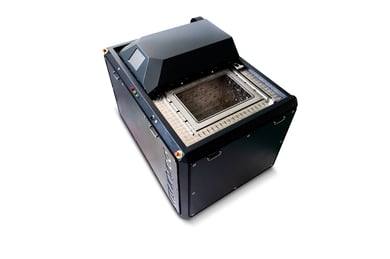 Exceptional Outcomes
AMT PostPro vapor smoothing has delivered game-changing results for one TTH customer with high-volume needs. Before using the vapor smoothing machine, TTH had to make their parts using the cast urethane process because they couldn't get the surface finish needed by the customer right off a 3D printer. Using the AMT PostPro process, TTH was able to not only meet high demand but do so with outstanding quality control. TTH estimates the process for printing these parts is now five times faster with outstanding quality, repeatability & less human interaction. This frees resources throughout TTH to deliver great results for even more customers.
Expanded Opportunities
TTH has already won several new customers thanks to the vapor smoothing capability, including a large medical OEM and a large industrial OEM. The medical company has seen immediate results, as it no longer needs to hold inventory because it can be printed on demand – all with enhanced traceability and outstanding quality control.
A Rare Combination
Few shops have the knowhow and skill to combine HP's multi jet fusion printing with the AMT PostPro vapor smoothing process to quickly deliver a complete part. Vapor smoothing like this is brand-new technology in the additive manufacturing industry. Many customers are surprised to learn this is a fast and effective alternative to other options that has better turnaround times, customizability, throughput and end results. It's an additive process that truly demonstrates the incredible value of the additive manufacturing industry.
Get Started
TTH has the team and experience to quickly deliver great results on any 3D printing job.