SLA 3D Printing Process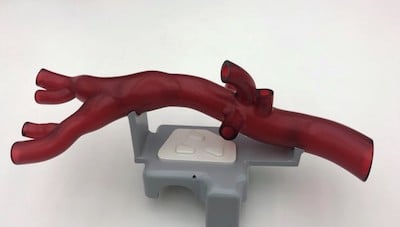 SLA works by building a 3D model of a component using a vat of liquid ultraviolet-curable photopolymer resin and an ultraviolet laser to form one thin layer at a time, usually between 0.002"-0.006" or 50-150 microns. The laser beam traces a cross-section of the model on the surface of the liquid resin for each layer. Exposure to the ultraviolet laser light cures and solidifies the pattern traced on the resin and joins it to the layer below. After the pattern has been traced, the SLA machine's elevator platform is lowered by the thickness of a single layer and the process is repeated. After an SLA is printed, the excess resin is removed and the component is cured in an ultraviolet oven.
SLA 3D Printing Advantages
Highly Accurate
Smooth surface finish
Easy to finish and paint
Heat and moisture resistant
Quick turnarounds
Low costs with economy of scale
SLA Best Uses
Fit and function samples
Master patterns
Painted sales & marketing samples
Clear sample parts
Quickcast for casting masters
Not sure which additive manufacturing process is best for your application? At TTH, we have the processes (e.g., Carbon DLS, PolyJet, selective laser sintering (SLS), fused deposition modeling (FDM), HP Multi Jet Fusion (MJF)), and materials (metals, plastics/composites) to produce parts with custom finishes that are closer to production-ready.