Watch This Video to Learn More About the Vitamix and TTH Partnership
Challenges with the Existing Nozzle
Vitamix produces a specialized nozzle used for rinsing commercial blenders in a store setting. These microfluidic nozzles are designed to jet pressurized water out of 300 micron holes and are regularly exposed to bleach, detergents, and other sanitizers for fast and efficient rinsing of blender containers. Therefore, the functional requirements for these nozzles are twofold:
Robust microfluidic design to jet water at high speeds and pressure in a pattern requiring very specific and fine geometry
Reliability, specifically the ability to handle daily wear and tear in a commercial food service environment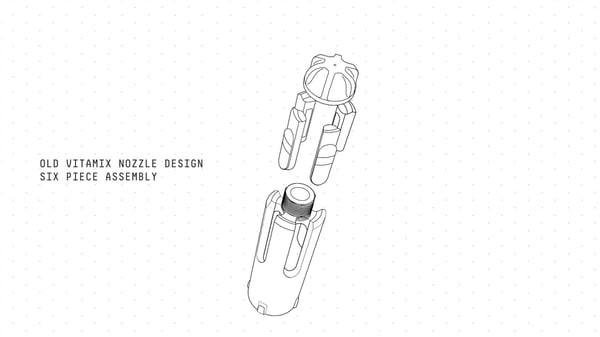 Legacy nozzles were made with six parts designed for the injection-molding process at the production level, and during the early development process, constructed from a variety of prototyping processes including stereolithography (SLA), selective laser sintering (SLS), fused deposition modeling (FDM), and cast urethane. Injection molding is typically associated with high tooling costs, part lead time delays, and significantly lower freedom around part design and iterations.
The Vitamix mission statement is, "We create relationships for life by designing, developing and producing the world's best performing and most reliable blending solutions." With a history of continuous improvement and innovation, the Vitamix product development team turned to TTH and Carbon, two leaders in additive manufacturing, to completely reimagine part design and production to develop an innovative microfluidic nozzle.

New Product Development Mindset
Challenged with limited nozzle development time and looming field test delivery requirements, Vitamix approached TTH, a leading contract manufacturer based in Ohio, to help them. TTH looked at the complex microfluidic nozzle and decided to 3D print all six individual parts using Carbon's SpeedCell™ system (which includes the M Series printers and Smart Part Washer) and Rigid Polyurethane (RPU) material. The initial problem-solving approach was to lower or eliminate tooling costs, reduce part lead time, and deliver parts with high geometric fidelity that also exhibit robust mechanical properties with no supplier or tooling dependencies. No other process offered this combination of features.
The approach was to conduct field tests and iterate on the nozzle design. With 3D printing, manufacturers can print field-ready parts in a matter of days, versus months with injection-molding suppliers. However, this approach still required multi-part assembly (due to the design for injection molding) and high operating pressures.
Engineers at Vitamix were pressed for time to meet their customer expectations. Eager to push the boundaries, the Vitamix and TTH teams realized that they were not fully leveraging all the capabilities of Carbon's Digital Light Synthesis™ technology. Vitamix and TTH engineers set their sight on the ambitious goal of manufacturing the entire six-part nozzle as a single monolithic part with no assembly requirements. Carbon's material met the desired mechanical characteristics while offering excellent resistance to bleach. Carbon's technology is capable of manufacturing complex geometries and channels with excellent surface finish, a critical element due to the high-pressure fluidics performance requirement of the nozzle.
As with any new product development, engineers at Vitamix, TTH, and Carbon faced numerous challenges with the functional performance and reliability of the new nozzle design, as well as manufacturability of the nozzle. TTH and Carbon experts collaborated to remove kinks in the print process development. With 300 micron holes in the nozzles and complex microfluidic channel structures, engineers pushed the boundaries of design freedom and design optimization using Carbon's software and M Series printers to 3D print these nozzles as a single part instead of an assembly of six individual parts.
The result is a fully optimized nozzle that uses 30% less material. The Vitamix engineering team carried out extensive lab and field testing on each stage of the design development to ensure nozzle durability under the wear and tear associated with a commercial environment. Carbon engineers also leveraged finite element analysis (FEA) on the nozzle design to ensure production-scale manufacturability on the M Series printers.
Another aspect to highlight in this product development journey is the speed of innovation. Empowered by Carbon's digital manufacturing capabilities that allow for rapid design validation as well as final manufacturability validation, product engineers successfully iterated six to seven times on the nozzle design within a span of only four weeks.
Using the injection-molding approach, a single design iteration and resulting tooling (assuming no tooling issues) could have taken eight to 10 weeks. This speed of design iteration and manufacturability with Carbon highlights the power of end-to-end digital manufacturing versus traditional manufacturing approaches. This fail-fast approach to product development with TTH and Carbon helped Vitamix arrive at a robust production solution much faster.