In this second of two blog series, we will discuss some of the more interesting and outside the box thinking prototype requests we have ever received. Each one of these projects utilized different processes and materials to meet their specific objectives.
Outer Space Smoke Detector
Smoke produced in a reduced gravity environment does not exhibit the same characteristics as smoke produced on Earth. As such, the smoke detection and suppression systems on a space craft has to be designed accordingly. The Smoke Aerosol Measurement Experiment (SAME) was a highly successful experiment in which valuable data of smoke particle was collected and analyzed to assist in the development of future fire detection and suppression systems for space craft.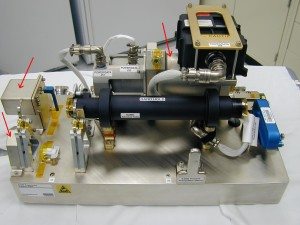 The red arrows indicate some of the components that were 3D printed.
Many of the pieces that went into building SAME were 3D printed and rapid prototyped. The 3D printed parts were fabricated in the 5530 high heat SLA material. Traditionally, flight hardware mainly consists of metal and other non-flammable components As a result the SLA's were coated with nickel in order to make them less flammable and improve structural rigidity.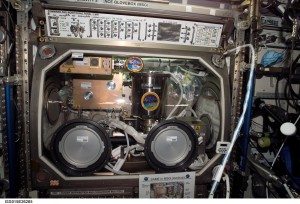 Fully assembled and in use on the International Space Station.
Violin
A customer required replicas of a 1714 Stradivarius Violin in order to show the shape and contour of the violin. Since this type of violin is so rare, prototypes needed to be produced. We used an actual 1714 Stradivarius Violin as a master to make a silicone mold, and then mold cast urethanes in an ABS plastic. These prototypes are accurate renditions in the look and feel of the original violin.
Lemonade Stand
A customer needed a trade show model of their new product, a children's lemonade stand. The product needed to be fabricated and fully finished and painted in a short amount of time. Components were 3D printed and CNC machined from plastic and foam. Once all the parts were made, the parts were then finished and painted to replicate the production model. The customer heavily relied on us for process and material recommendations. The prototype was completed on-time, and under budget.