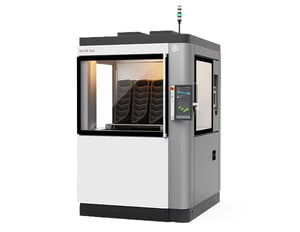 Image source: 3dsystems.com
The Technology House opened its doors in 1996 with one SLA 500 machine and three employees. Today, we are a leader in stereolithography (SLA) production—and have come full circle with the installation of the new, state-of-the-art SLA 750 machine. We are one of the first adopters in the United States. This installation reinforces our market position as an SLA 3D printing leader.
We were inspired to acquire the SLA 750 after we learned about its exceptional capabilities, including enhanced automation and efficiency that result in shorter lead times, faster post-processing, and improved part quality. It is eye-opening to see the potential of this advanced piece of machinery.
When we witnessed the SLA 750 first-hand, we knew this was cutting-edge technology—far beyond any of its predecessors. Our legacy machines simply cannot match the new standards that we can achieve now on every level. This SLA 3D printing machine will bring considerable benefits to part production for our customers.
SLA 750's Advanced Capabilities
The leading capabilities of the SLA 750 solution over past SLAs include:
Building large production parts at higher speeds.
Optimized laser scanning technology for better outcomes.
Better resolution and part quality
Faster industrial-scale post-processing
With the machine's higher speed production and larger capacity, our customers will gain new opportunities to expand their parts production, both prototype designs and finished parts. They will also have the option to choose from a wider range of materials available in the latest 3D printing systems, compared to the limited material selection available for use in our older machines.
There are endless applications for this machine that can benefit our customers. Its capabilities span most industries—from medical and biocompatible parts to aerospace wind tunnel parts. Other machines don't have the footprint this machine has.
8 Leading Benefits of SLA 750
With our new capabilities in the SLA 750, we are excited to bring our customers these eight advantages.
1—Expands our capabilities in production
Historically, SLA machines have been used primarily in prototyping. While the SLA 750 will improve prototyping quality, it will also advance our production capabilities. This opens up a world of new printing opportunities for our customers.
2—Delivers a larger production field.
While we have already been producing large parts for our customers, they require extra work in post-production. The pieces have to be cut and then bonded back together in the finishing process. But the SLA 750 expands our bed size from 20 x 20 inches to 29 x 29 inches. This means we can deliver the full integrity and mechanical strength of each part because it's in one piece. It will also provide greater efficiencies and cost savings.
3—Produces superior products.
Overall, the SLA produces higher quality parts than any other SLA machine thanks largely to its software improvements. The accuracy is greater. The support structures are stronger and easier to remove. The sidewall quality is more stable. Transparent components have higher clarity. Also, there is less breakage in the post-production process, which means fewer re-dos and less scrap from waste. The result is parts with a longer lifespan.
4—Increases production volume.
The SLA is known for producing large parts at high volumes. In fact, it delivers a 15% greater build volume within a smaller hardware footprint than previous models. This means we are now able to print hundreds of parts at one time, and they can be larger parts.
5—Accelerates parts production runtime.
Currently, on our legacy SLA machines, our lead time is two to three days. On the SLA 750, our lead time will be faster in most cases. In one of our initial test runs, what would have taken 40 hours on our old machines took 20 hours on this new machine—two times faster. What's more, the reduced post-processing times to finish the parts will also speed up the process.
6—Expands production-grade material options.
Previously, we had a limited selection of materials on our legacy machines. Now, the new machine broadens our options into 20 new materials, which includes materials tested by 3D Systems for end-use production use cases. The field is wide open for new material opportunities for our customers who need more options.
7—Offers opportunities in multiple industries.
The capabilities of SLA 750 span nearly every industry. Here is just a snapshot of some of the opportunities:
Aids, jigs, and fixtures in manufacturing
End-use production parts and mass customization
Under-the-hood components
Investment casting patterns
Mandrel tooling
Molds and dies
Cast urethane and vacuum casting patterns
8— Delivers cost savings.
Because our production runs will be faster, more efficient, and require less post-production work, they will deliver great economies of scale for our customers. This will allow our customers to not only gain a competitive advantage in their industries with better parts, but also gain economic advantages by creating more of those parts faster and cheaper.
Looking to the future with our new SLA 750, we are aiming to hit a number of objectives. Among them is pushing SLA production to the next level with larger part production, larger volume production runs, and new materials—further expanding our parts production capabilities.
For details about working with the TTH team on SLA 750 projects, please request a quote to get started.