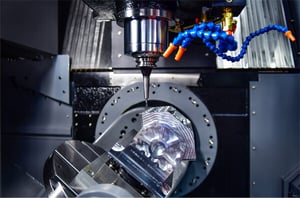 Design engineers looking to produce complex geometries with increased productivity and precision should seek a contract manufacturer with 5-axis CNC machining capabilities.
Why? This form of subtractive manufacturing is superior to traditional 3-axis CNC machining in many ways. Let's take a look at how.
5-axis CNC Machining vs. 3-axis CNC Machining
A standard 3-axis CNC machine can move a part or tool on three axes:
X (side to side)
Y (forward and back)
Z (up and down)
A 5-axis CNC machine adds the following ways to approach the part:
To use a metaphor, 3-axis machining is comparable to an airplane's ability to move forward, sideways, and up and down. You can think of 5-axis machining as an airplane's ability to do all of the above plus roll and pitch.
Ultimately, the ability to approach a part from five of its six sides means you can do more machining with fewer setups and with a high degree of precision. With our 5-axis CNC machining services at The Technology House (TTH), we can regularly hold standard machining tolerances as low as +/-0.0005" and in certain applications within .0002" total tolerance.
Benefits of 5-axis CNC Machining
1. Speed
You can typically increase your cycle time with 5-axis CNC machining and get the work done faster than when compared to traditional 3-axis machining because 5-axis technology reduces the number of setups required per part. With 3-axis machining, every time you need a different side of the part to face the tool, you must stop the machine, manually unclamp the part, manipulate or rotate the part, reclamp it, and start the machine again. Whereas on a 5-axis machine, you can simply rotate an axis.
5-axis machines also decrease product development time due to the reduction in setups, allowing you to get out first article parts quicker and determine the tools, fixture setups, and other details you need before a production run.
2. Precision
By eliminating multiple setups, there is less of a chance for human error in the 5-axis machining process than there is in traditional 3-axis machining. When you can get more done in fewer operations, you decrease the chance for tolerances to stack up, causing problems down the road.
Depending on the complexity of the part you need to produce and the industry you're in, 5-axis CNC machining may be your only option to achieve the precision and tolerances required.
3. Return on investment
While 3-axis CNC machining may seem like a lower-cost approach, a savvy contract manufacturer will be able to quickly determine whether the return on investment is better for 5-axis CNC machining. Based on factors including the part's complexity, the reduction in setups afforded by a 5-axis machine often makes it the better option in the end.
4. Material versatility
All materials qualify for the 5-axis CNC machining process, including plastics and metals like aluminum, steel, or titanium. Five-axis CNC machining can handle all the same materials as 3-axis CNC equipment.
Industries Well-Suited for 5-Axis CNC Machining
Many types of parts are candidates for 5-axis CNC machining, but manufacturers in the aerospace and medical fields are especially well-suited for this approach.
Aerospace parts are a natural fit for 5-axis CNC machining because many of them have tight tolerances . Additionally, aerospace components are often complex and may have call-outs on their part drawings, true position profiles, and other requirements that reference surfaces on many faces of the part. The 5-axis approach is better designed to accommodate those specifications all at once, improving the chance that the parts match up as intended and you don't have items out of true position or out of profile. Similarly, medical parts typically feature complex surfaces and demand tight tolerances, lending themselves to the precision of 5-axis CNC machining as well.
No matter what industry you're in, you want to ensure your complex precision CNC machined components are produced on time with tolerances on spec. TTH's team of experts will collaborate with you to evaluate the complexity of your geometry and many other factors, ensuring we execute your project optimally every time.
For details about working with the TTH team on a 5-axis CNC machining project, please request a quote to get started.