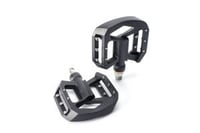 RPU is our stiffest and most versatile polyurethane-based resin out of the Carbon 3D family. It performs well under stress, combining strength, stiffness, and toughness. These properties make RPU particularly useful for consumer electronics, automotive, and industrial components, where excellent mechanical properties are needed.
RPU Rigid Polyurethane: Our Thoughts
1. Material
Every manufacturing process has its bread and butter material; 3D Printing has ABS, CNC Machining has Aluminum, Injection Molding has Polypropylene. Carbon 3D is no different. The RPU Rigid Polyurethane is our workhorse material. It builds fast, accurate and finishes great. Our team loves its. If our techs had it their way they'd build every part out of it.
2.Surface Finish
The RPU Rigid Polyurethane has the best surface resolution out of the all of the Carbon 3D materials. Period. The parts off the machine require little to none post finishing. When parts need to be finished, the material is extremely acceptable to sand blasting and paint.
3.Production Ready
Out of all the materials the RPU Rigid Polyurethane is the farthest along to start production today. The material has the versatility and mechanical properties to make it a great fit for housings, brackets, ducts, connectors, etc. We have already seen several cases where CLIP technology has already been a cost and time effective alternative to CNC Machined or Injection Molded parts.