As an engineer, you're always looking for new and better solutions for your design projects. You've likely experimented with traditional additive or 3D printing to produce models and prototypes. Besides being slow, the surface finish and mechanical properties are often suspect. But have you tried the newest innovation in 3D printing? Digital Light Synthesis (DLS)!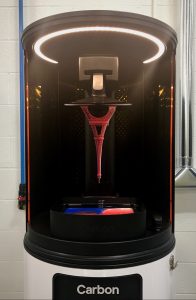 Enabled by Carbon's proprietary CLIP Technology, Digital Light Synthesis uses digital light projection, oxygen permeable optics and programmable liquid resins to produce products with much improved durability, resolution and surface finish.
Here's how it works:
The printer projects UV images through an oxygen-permeable window that sits below a reservoir of liquid resin.
Controlling the oxygen flow forms a "dead zone" layer of uncured resin above the window. Light passes through the "dead zone," curing the resin above to form a solid part. The object forms as it the build platform lifts it from the resin puddle below.
The finished part is baked in a forced-circulation oven strengthening the materials.
If you're not familiar with digital light synthesis, here are key items you need to know.
1. Increased Smoothness and Durability
Digital Light Synthesis greatly improves upon the surface and mechanical property issues of traditional 3D printed objects. Because this process doesn't print layers, the surface of the object is much smoother. The higher quality finish combined with the second chemical reaction from the heat of the forced-circulation oven makes for high resolution parts with engineering-grade mechanical properties.
2. Speed to Market
With the Digital Light Synthesis process, you can create prototypes, test them and run your production all in the same process and with the same material. This saves you time and cost while getting your products to your customers faster.
3. Available Materials
3D printing with the Digital Light Synthesis process is available with the materials below:
RPU Rigid Polyurethane: Tough and abrasion resistant, stiff. Similar to ABS.
FPU Flexible Polyurethane: Tough, impact and abrasion resistant with moderate stiffness. Similar to polypropylene.
EPU Elastomeric Polyurethane: Highly elastic, resilient. Similar to TPE. 68A durometer.
CE Cyanate Ester: High-temperature resistance, strength and stiffness. Similar to glass-filled nylon.
EPX Epoxy: Temperature resistant, strong and accurate. Similar to glass-filled PBT or PC/ABS.
UMA Urethane Methacrylate: Rigid resins for manufacturing jigs, fixtures and general purpose prototypes. Tough SLA material available in all colors. Similar to SLA resin.
DPR Dental Production (NEW!): Fast and accurate. Designed for dental and orthodontic. Similar to UMA or SLA resin.
4. adidas Partnership with Carbon for Futurecraft 4D
adidas is utilizing DLS with Carbon's CLIP technology to open up new possibilities in shoe design. Carbon developed a revolutionary elastic material for the midsole of adidas's new product, Futurecraft 4D. Traditional 3D printing was too slow for production, created wasteful part supports and used materials that were brittle.
Carbon's Digital Light Synthesis sped up the process and removed the need for prototyping. They were able to test performance in the design phase. It also created products with no support material, eliminating waste. With the results of Digital Light Synthesis, adidas will be able to customize its shoes for optimal performance by sport and by customer.
This is a huge step for the additive manufacturing. These improvements for large volume production can be applied across all industries.
5. Digital Light Synthesis Is Available with The Technology House
The Technology House (TTH) was one of a select few Beta-sites selected for the Carbon M1 Printer in 2015. Currently, TTH is running six Carbon DLS Machines, including the latest M2 model which offers a larger build platform and double the build volume than the M1 model.
Customers can create prototypes, models, parts, etc. for medical, automotive and other industries. We can create what you need to your specifications. Experience the speed and new design capabilities TTH can offer with CLIP Technology.