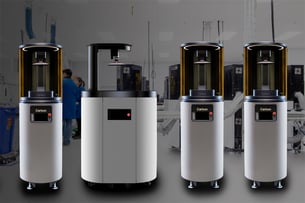 Urethane, also known as cast urethane molding, is a traditional manufacturing method used to create prototypes, low-volume production parts, and custom components using polyurethane materials.
Cast urethane molding offers a cost-effective alternative for a variety of industries and applications. It traditionally is used to bridge the gap between rapid prototyping techniques like stereolithography (SLA) and hard tooling for injection molding.
However, due to the advancements in 3D printing and materials, we are seeing more and more benefits of moving bridge production away from urethane casting and into additive manufacturing, or 3D printing, especially for smaller components.
This is because urethane casting is a very laborious and time consuming process. Manpower is required along each step of the process from building the mold to shooting the mold. Material cure time dictates how many parts can be shot per day, and molds can only handle so many shots before new ones need to be made.
Urethane will still have a place especially for larger components like panels, bumpers and things that exceed the size of 3D Printers. However, with a dwindling workforce and the skillset not being taught at trade schools as much, we think now is the time to seriously start considering AM in place of urethane.
In this blog, we'll discuss how additive manufacturing processes such as Carbon Digital Light Synthesis (DLS) and HP Multi Jet Fusion (MJF) can replace traditional manufacturing methods.
Why Additive Manufacturing?
Additive manufacturing, or 3D printing, is one of the most revolutionary technologies of the 21st century. It allows designers to create complex parts for a wide range of industries—aerospace and defense, medical, consumer goods, industrial equipment—at a fraction of the cost and time of standard means like forging, molding, and sculpting.
The main benefits of additive manufacturing are realized in its:
Cost: With 3D printing, the ability to make complex shapes and parts more easily saves high costs of programming and setups. 3D printing also allows for making only what you need, minimizing material costs and minimum part orders all while running unattended.
Flexibility: As a complement to traditional manufacturing methods, 3D printing can be used to create a single part or multiple parts, without high costs and long lead times.
Speed: 3D printing is faster than traditional manufacturing methods because there is no tooling required to make parts. With 3D printing, you can design a part, manufacture it, and test it, all within 24 hours.
Learn the ins and outs of 3D printing and the processes that will help take your idea from concept to prototype to production.
Carbon DLS
Carbon DLS with Carbon DLS technology allows for true 3D digital manufacturing, not just for prototyping but for the production of customized parts and serial production. This technology provides parts from amazing elastomeric and rigid materials.
Advantages of Carbon DLS
Wide range of elastomeric and rigid engineering-grade materials
Biocompatible and sterilizable materials
Reduced time to market
Isotropic parts, air-tight and leak-proof
Outstanding surface finish
Smart equipment for industry 4.0
Carbon DLS parts are best used for:
End-use production parts
Digital inventory for on-demand production
Part consolidation
Complex, organic, generative designs
Foam replacement parts
HP Multi Jet Fusion
HP MJF is a new powder-based 3D printing process created by HP for scaling industrial printing volumes from prototype to production.
MJF is a digital manufacturing platform for additive manufacturing that 3D prints layers on top of molten layers, which allows the printed layers to fuse together to form strong and detailed parts quickly. This allows MJF to produce production-quality parts with different materials faster than other similar technologies. Parts are usually available in as little as 3-5 days.
Advantages of HP MJF
Strong, tough, durable parts
Fine feature resolution and surface finish
Thermoplastic materials: Nylon, GF Nylon, PP, TPU
Economies of scale with fast, nested prints
Isotropic mechanical properties
Print complex organic shapes and working assemblies with no supports
HP MJF is best used for:
Replacement parts
Snap fits and living hinges
End-use production of all volumes
Air-tight and leak-proof
The Case for Additive Manufacturing
Our world has become a personalized, on-demand marketplace, and additive manufacturing enables us to make more things, faster, better, and more accurately than we could before. Carbon DLS and HP MJF are state-of-the-art, newer processes, and 25% faster than traditional 3D printing processes.
At the Technology House (TTH), we've helped customers switch urethane casting parts into 3D printed parts. Our team has:
Successfully converted 10 customer legacy urethane parts to additive manufacturing (both Carbon and HP; These parts total over 5,000 pieces per year.
Successfully introduced over 30 new production part numbers into additive manufacturing that were originally intended to be urethane casted; EAUs range from 50-1000ps per year.
Dropped average lead times from 3-5 weeks to 1-2 weeks
Lowered customers' MOQs
Lowered or held piece price compared to existing urethane parts
Ready to Bring Your Idea to Life?
From design to prototype to production, our team of engineers is ready to help bring your idea to life. Since 1996, the team at TTH has been at the forefront of 3D printing and additive manufacturing, and we've had success helping customers convert from urethane casting to additive manufacturing.
If you're ready to do the same, contact us today!