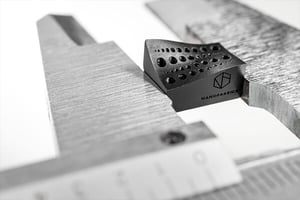 Engineers in fields like medical devices, aerospace and defense, industrial manufacturing, consumer products, automotive, micro electronics, and more are always looking for smarter and smaller ways to do things. Imagine an electronic device the size of one grain of ground pepper. A drone that can sit on the tip of your finger. A medical device so small you could confuse it with a crumb on your table. Things you can only imagine or see in a science fiction book—this is where additive manufacturing (AM) technology is going.

As it continues to evolve, savvy contract manufacturers are adding new capabilities to meet these challenges all the time.

One of those advancements is 3D printing with a micro digital light processing (DLP) AM system. At The Technology House (TTH), we use a micro DLP machine called the Fabrica 2.0 from Fabrica Group.

This micro DLP system is similar to a traditional DLP machine; the difference is the resolution at which it prints. The Fabrica 2.0 prints at a resolution of 1.9 micron compared to 75 micron for a traditional DLP printer.

To understand how DLP printing works, imagine an apple sliced into 20 slices with a vegetable slicer. Although you have sliced the apple into 20 pieces, you can put the apple back together. A DLP printer works the same way. Software "slices" a part based on the layer thickness of the printer technology, then prints the layers.

Traditional DLP technologies print layer thicknesses between 80 and 100 micron. TTH's Fabrica 2.0 micro DLP machine prints at 5 micron (default)—or approximately one-tenth the thickness of a human hair or it can print down to 1 micron. Printing with a layer thickness of 1 to 5 micron, the Fabrica 2.0 ensures that both the visual and mechanical qualities of the printed device are extremely precise and highly reliable.

The Nano Fabrica 2.0 achieves a tolerance of +/- 1 micron. This precision creates the opportunity to print entire assemblies in one run, taking the time and material wastes of the assembly process out entirely. Being capable of such fine tolerances also opens doors in the medical field, specifically the microfluidics industry, as channels and holes less than half a millimeter wide are able to be printed with reliable clearance.
Potential Applications for Micro DLP Printing
TTH is currently at the cutting edge with the Fabrica 2.0 technology, thoroughly testing it to better understand the machine's limitations and how to maximize the machine's capabilities. We're seeing demand for this technology from the following industries and product types:
Medical devices
Connectors
Satellites
Drones
Electronics
And more
We expect the Fabrica 2.0 to be most prevalent in the medical device field, specifically within microfluidics, microarrays for needles, and the like. This machine allows you to create tiny parts with passageways you could not have created with traditional manufacturing or 3D printing methods. Micro DLP technology may eliminate the need for some devices to have multiple parts assemblies by printing one part at a micro scale instead, which simplifies labor and improves the performance of the device. Think of applications like catheters or drug delivery, just to name a few. In the future, implantables are expected to be another area of opportunity for this machine, although we'll need further material development in that space first.

Currently, the Fabrica 2.0 has proven to be a good prototyping machine, and eventually, we expect to use it for production applications as well.
Materials for Micro DLP Printing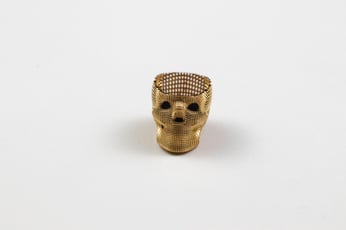 With TTH's micro DLP printing machine in the developmental stage, there are currently two proprietary materials. Both are epoxy-based.

The first one, Precision N-800, is similar to Acrylonitrile Butadiene Styrene (ABS), a 3D-printing favorite. The second one, Performance N-900, is a ceramic-filled epoxy, which mimics engineered plastic, similar to the material used in injection molding. Many more materials are in the material development pipeline by NanoDimension to accommodate the needs of its customers. Not only is there opportunity within material development on the Fabrica 2.0 platform, but also surface finishes. At The Technology House, we successfully tested metal plating of Nano Dimension's Precision N-800 material. Metal plating increases the strength and usability of the printed part.

As you can see, there has been significant material innovation in this space in the last few years, and we anticipate it to continue because the market is showing demand for more options.
Advantages in Speed, Cost, and Beyond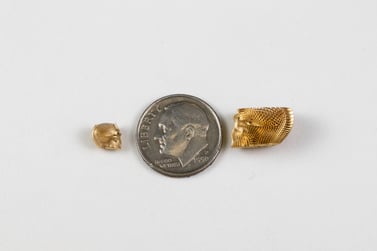 With the Fabrica 2.0, TTH is offering clients advantages in speed to market, costs, and beyond.

Rather than waiting for six months to get a micro tool built for injection molding, you can speed up the prototype cycle significantly with our micro DLP printing services. We can deliver prototypes on the Fabrica 2.0 in 5 business days.
Micro DLP printing offers a financial advantage as well. Tiny, intricate microinjection tools can cost hundreds of thousands of dollars compared to hundreds of dollars or less for a micro DLP-printed part.
Overall, micro DLP printing allows customers to iterate prototypes much faster, greatly improving the speed to market, keeping costs down, and creating a competitive advantage.
Perhaps the biggest advantage of all is the prospect of producing parts in the near future that you can't even build today. Rather than being limited to the dexterity of someone's hand or what you could make with a microinjection tool, micro DLP printing opens up a whole new world at a much smaller scale.
When you need a part printed at a micro scale that cannot be micro molded or made by hand—or that you can't even make today—contact us or get a quote to find out whether micro DLP printing is the right option for your application.