Last week, the Institute for Supply Management published its monthly ISM Manufacturing Report for April. The PMI was 51.5 percent, which is unchanged from March's figure. It has been well documented in other news articles that this figure is the lowest PMI since May 2013.
The report noted
"The April PMI® registered 51.5 percent, the same reading as in March. The New Orders Index registered 53.5 percent, an increase of 1.7 percentage points from the reading of 51.8 percent in March. The Production Index registered 56 percent, 2.2 percentage points above the March reading of 53.8 percent. The Employment Index registered 48.3 percent, 1.7 percentage points below the March reading of 50 percent, reflecting contracting employment levels from March. Inventories of raw materials registered 49.5 percent, a decrease of 2 percentage points from the March reading of 51.5 percent. The Prices Index registered 40.5 percent, 1.5 percentage points above the March reading of 39 percent, indicating lower raw materials prices for the sixth consecutive month. While the March and April PMI® were equal, both registering 51.5 percent, 15 of the 18 manufacturing industries reported growth in April while only 10 industries reported growth in March, indicating a broader distribution of growth in April among the 18 industries."
Click here to view the report in its entirety.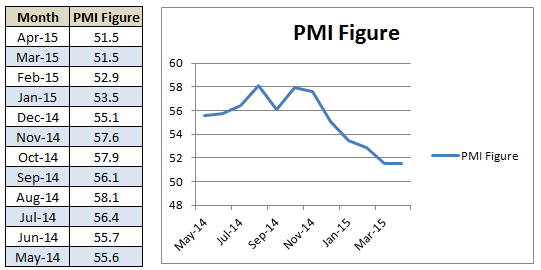 So what does this figure mean? Any figure above 50 percent indicates that the manufacturing section is growing. 51.5 percent shows that the sector is growing, but albeit, at a slower pace.
Although this figure can be helpful, there are some things to note with it. The ISM Manufacturing Index is just a survey among purchasing managers. This figure reflects the number of people saying that the conditions are good, compared to those purchasing managers who are saying the conditions are worse. The figure just reflects the purchasing managers' responses, and does not include the size of the firm, or the degree on improvement/contraction.
This survey should not be used as a strong indicator to read the conditions of a business cycle, but rather, this is a simple survey that can provide anyone a broad indication of trends.