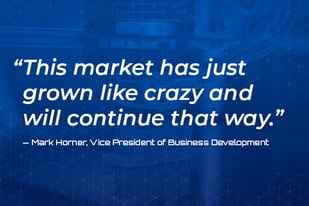 A lot has changed in the additive manufacturing industry, also known as 3D printing, from the early days of stereolithography (SLA) to the production capabilities we see today.
To reflect on where additive manufacturing started and where the industry is going, we talked to longtime The Technology House (TTH) team member Mark Horner, vice president of business development, who retired in May 2022, after more than 25 years with the company and more than 30 years in the industry.
In the fall of 1989, Horner was working at Packard Electric, the wiring division of General Motors. The company bought an SLA 250, the original 3D printing technology, and he was trained on the equipment. Horner was excited about the promise of 3D printing, although the materials were brittle and limited at the time.
Although 3D printing took days back then—compared to hours or minutes today—the alternative was machining a prototype out of plastic or metal, which typically took weeks or months, slowing down the design cycle.
"This technology was going to help (Packard) print prototypes and make decisions much quicker, which is what it did for everyone," Horner says.
After his time at Packard, he worked for a contract manufacturer before joining Chip Gear when he founded TTH in 1996 with an SLA printer from 3D Systems.
'Game-Changing' 3D Printing Technology
Over the quarter-century TTH has been in business, Horner has seen additive manufacturing evolve rapidly and in unexpected ways.
He points to HP Multi Jet Fusion (MJF) and Carbon Digital Light Synthesis (DLS) technologies as "game changers"—not only in speed but in material properties and capabilities.
For example, in the 1990s, printing production-capable parts was the ultimate goal of additive manufacturing, but it was rare and done on an extremely limited basis. Flash forward to today, and 3D printing for production is something TTH has been achieving for clients for several years.
"It's not the way the majority of things are manufactured, but it's increasing day by day," Horner says. "For us, 10 years ago, we were doing extremely small amounts of printing for production, and today we're doing lots of that and we're not alone. There are a lot of companies that are using it for production when it's appropriate because it saves time and money. You don't have tooling. You don't have inventory. On and on, the list of benefits is long."
3D metal printing is another capability Horner says was limited when TTH was founded but is a viable, popular technology today.
"You'd be amazed at how many 3D metal parts are flying in planes around the world," he says. "It's pretty phenomenal."
The Future of Additive Manufacturing
Throughout his career, Horner has seen many 3D technologies come to market and then fade away. One he expected to revolutionize the industry is selective laser sintering (SLS), a strong, durable nylon powder.
"I really thought SLS would take the market over, and it didn't," he says. "Now you've got HP, which is basically creating the same parts, but much faster, much more economically."
Considering the rapid change that has taken place in additive manufacturing, the future of the industry is difficult to predict, Horner says. But one thing is for sure: All eyes are on production.
"It'll always be a great prototype tool, but as we've seen at TTH, as well as in the industry over the last 10 years, (production) has become more and more prevalent and that'll continue."
Although Horner doesn't see tooling being completely eliminated, he forecasts additive manufacturing will take over perhaps 80 percent of the injection molding market as 3D printers continue to improve.
Other markets Horner sees advancing quickly are 3D-printed houses, food, and biomaterials like human organs.
"There are so many different applications—it's exploded," he says. "This market has just grown like crazy and will continue that way."
Despite witnessing the additive manufacturing market evolve almost from the beginning, Horner is still amazed by some of the industry's capabilities today. For example, a career highlight for him was TTH creating 3D-printed parts that made their way to the International Space Station. TTH printed four components for NASA's Seeker Project with Carbon's DLS technology. The components helped thrust the Seeker and Kenobi robots into space to navigate and inspect spacecraft.
"That was, to me, very exciting," he says. "Those drones are autonomous, which blows my mind that that even exists."
Although no one at TTH, including Horner, could have predicted the company would take part in such exciting projects when they got their start several decades ago, reflecting on how far they've come only reinforces TTH's commitment to innovation and remaining at the forefront of additive manufacturing.