We have encountered a lot of customers that have been more active over the past few years of converting existing metal parts to plastic parts. With the proper design, plastic parts can be just as strong as metal parts. There are three major benefits on why this conversion is done: cut costs, improve functionality, and design freedom.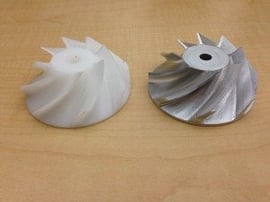 Cut Costs
Metal parts are primarily manufactured through CNC machining. But there are more options to produce plastic parts. Excluding CNC machining, the more common manufacturing methods for plastic parts are 3D printing, cast urethane, and injection molding.
A major benefit of 3D printing is that you can print parts in batches, thus allowing you to benefit from economies of scale.
Once the upfront tooling cost is amortized, cast urethane and injection molding allows you to mold parts in a matter of minutes rather than hours with CNC machining.
Finally, plastic production processes like 3D printing, cast urethane, and injection molding allow you to mold all the features at once.
Improve Functionality
Certain plastics can have more chemical resistance with exceptional heat resistance. This allows for plastic parts to be ideal for applications like fuel and fluid handling systems. Some plastics are also engineered to be thermally and electrically conductive. Finally plastic parts can reduce the product weight.
Design Freedom
Being able to produce parts in plastic allows you to create parts with more complexity, as well as combining different parts to be built as one. Processes that produce plastic parts, like 3D printing, cast urethane, and injection molding, allow you to create parts with undercuts, threads, thin walls, and tight tolerances that may not be possible through metal manufacturing processes.
In addition, the ability to mold in features, such as ribs, will give plastic parts strength, yet allow the parts to be lighter than metal.
This is the first of two blogs regarding metal-to-plastic conversion. In the blog, we will discuss which industries and applications have most benefited from metal-to-plastic conversion.